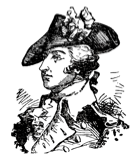 Antietam Historical Association (AHA) sponsors The Hereditary Societies of Waynesboro (PA), a series of hereditary organizations commemorating historical figures by recognizing their living descendants.
Through membership in The Hereditary Societies of Waynesboro, applicants honor the memory of their ancestors; they enjoy the association with their ancestors' accomplishments; they assist AHA in its work; and they create family records which can benefit future generations of researchers.
Applicants receives a certificate, suitable for framing, evidencing their membership and their qualifying ancestors. Eligible persons may receive more than one certificate. Certificates will be presented at the Annual Meeting of Antietam Historical Association unless an applicant requests that the certificate be mailed to him/her.
Membership in one or more of The Hereditary Societies of Waynesboro is a great way to honor your ancestors, and to take pride in descent from noteworthy persons through a continuous blood line. At the same time, membership applications generate valuable genealogical information which should prove helpful to other researchers, both now and in the future. Please click here to download Instructions for Applications to all societies.
For more information, please email us at events@antietamhistory.org or write us at 119 West Main Street, Waynesboro, PA 17268.