ANTIETAM CREEK and its tributaries drain the southeastern corner of Franklin county, Pa., and the eastern part of Washington county, Md., together with small parts of Adams county, Pa., and Frederick county, Md.
Antietam Historical Association (AHA) therefor processes historical information pertaining to the region lying roughly between Caledonia State Park in Pennsylvania south to the Potomac river, and from the Blue Ridge Mountains westward through the great valley to the eastern edge of the watershed of Conococheague creek, which drains the central part of the Cumberland Valley.
In its quest to assist historical researchers investigating the Antietam country, AHA will, from time to time, here publish maps of its territory and the various purparts thereof.
Our first offerings are selections adapted from "Atlas of Franklin County, Pennsylvania, From actual Surveys under the direction of D.G. Beers" (Philadelphia: Pomeroy & Beers, 1868). Of all the maps included in the Atlas, only those pertinent to the AHA mission are included here.
Maps of townships, boroughs, and villages are in portable document format, and can be viewed by clicking on the links below.
Antrim Township
Quincy
Quincy Township
Washington Township
Waynesboro
Maps of election districts, towns, and villages are in portable document format, and can be viewed by clicking on the links below. Only those districts in the Antietam watershed are included.
Beaver Creek District
Boonsboro District
Boonsboro
Cavetown District
Chewsville District
Funkstown District
Funkstown
Keedysville District
Leitersburg District
Ringgold District and East Hagerstown
Rohrersville District
Sharpsburg District
Sharpsburg
Smithsburg
Tilghmanton District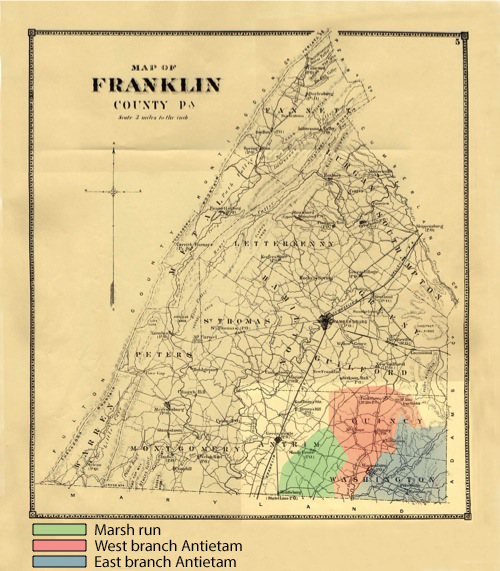 The above map illustrates Franklin county, Pennsylvania, around 1868. The watersheds of the three principal tributaries of Antietam creek in Pennsylvania are tinted as explained in the accompanying key.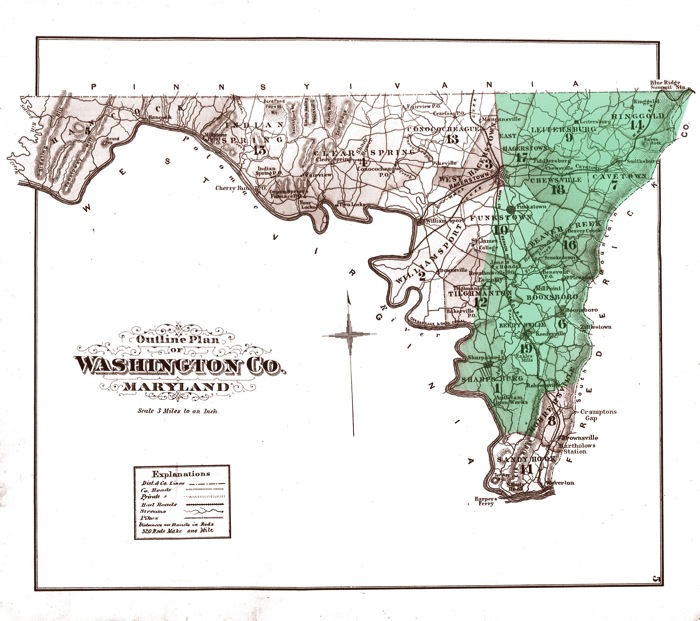 The above map is adapted from An Illustrated Atlas of Washington County, Maryland (Philadelphia, Pa.: Lake, Griffing & Stevenson, 1877). It illustrates Washington county, Maryland, around 1877. The Antietam watershed is tinted green.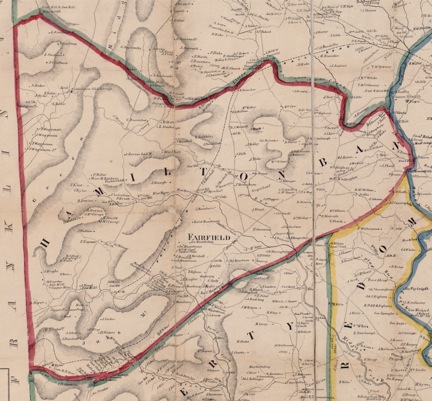 Hamiltonban township, Adams county, Pa., depicted in G.M. Hopkin's 1858 map of Adams county. The township contains the headwaters of the East branch of Antietam creek. These springs appear in the upper left corner of the map, in the vicinity of Caledonia Cold Springs.