Antietam Historical Association sponsors two informal study groups,
the Antietam Ramblers and the Potomac Street Irregulars.
The Antietam Ramblers are a field study group who visit natural and historic sites in the Antietam country. There is very little structure to the Ramblers, so it is difficult to specify which sites they may visit or by what means they will choose to get there.
The first Antietam Ramble was a March hike from Pen-Mar Park to the site of the Blue Mountain House, a sprawling resort hotel built on the western slope of Mount Quirauk in 1883-84. The hotel burnt in 1913, and was never rebuilt. The site is now part of the South Mountain Natural Environmental Area, and the ruins of the great hostelry are mingled with vegetation. With a thin coating of snow on the ground and a clear, blue sky, the ramble was quite enjoyable.
Other destinations which have been suggested are the mouth of Antietam creek, headwaters of Antietam, copper mines, old distilleries, charcoal hearths, early Stoner settlement, historic sites of Leitersburg district, abandoned railroads, CG&W Street Railway right-of-way, other South Mountain hotel ruins, and a tour of the setting of the "national romance" Katy of Catoctin, by George Alfred Townsend (1886).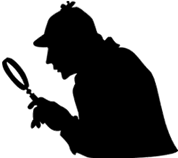 The Potomac Street Irregulars study crime in local history. They meet the second Tuesday of every month at a local restaurant, dine together, and then discuss featured cases. This group have proved quite popular after featuring such cases as the shooting deaths of Jacob and Samuel Shockey in the nineteen-twenties, the 1939 Gerard Peabody bank robbery ring, and the unsolved 1946 murder of Miss Betty Jane Kennedy.
Both study groups are open to the public. Their activities are announced and pictured on the Antietam Historical Association Facebook page. For more information, to reserve space at meetings, or to join field trips, please telephone (717) 762-2006.